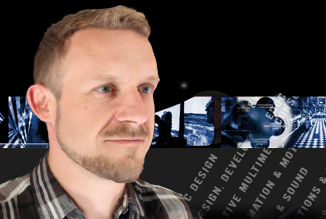 Hi!
I'm Ben Neal and I work freelance as Psicon Lab (pronounced "Sy-Kon Lab").
Here's a bit about me...
As a Creative Technologist I have a wide range of creative and technical skills and specialise in bringing them together to build unique and engaging products. As a Digital Producer I plan, manage and deliver complex and diverse projects, and provide knowledge and expertise.
I do a lot of creative coding and am an experienced programmer using mainly C#, PHP, Javascript, Python, CSS, HTML, Wordpress and Processing. I often work with 3D graphics, audio, video, mobile devices, create MIDI controllers, and sound-reactive animations - as well as building games, software and Virtual Reality using Unity.
Recently I've been working a lot with rapid prototyping using electrical sensors and microcontrollers (Arduino, Raspberry Pi etc.) to build gadgets with sensors, controls and LED lights.
I am the Digital Producer at BOM (Birmingham Open Media) - a center for Art, Science and Technology - where I support staff, artists, exhibitions and events. I'm also a BOM Fellow and Creative Technologist in Residence with the Institute of Creative Technologies at De Montford University.
I have a Degree in Fine Art, a Masters Degree in Visual Communications, a Postgraduate Certificate in Education, 5 years teaching experience, as well as business training including a year-long Entrepreneurial Fellowship at Birmingham City University. I'm an Apple certified video editor and was certified on the Creative Programming for Digital Media & Mobile Apps Coursera course lead by Goldsmiths University of London.
So I have real-life experience working in the arts, music industry, education, at events and running a small business, and understand how they work and what makes them successful. I give talks and presentations which include appearances at BCU's Maker Monday events, and often speak to students about my work or lead workshops. I'm also a friendly human being - you can email and phone me, meet up and discuss your ideas and requirements.
I go to a lot of arts, music and cultural events, and have regularly been involved with organisations such as Ikon Gallery, New Art Gallery Walsall, Warwick Arts Centre and the Victoria and Albert Museum as well as festivals such as Sonár (ES), Supersonic (UK), AVIT (UK) and Contact Europe (DE).
Previous projects include work for artist Rachel Maclean, the Open Data Institute and Juneau Projects; several presentation tools for Loughborough University; and online educational content for Oxford University Press.
My personal work has been seen and heard on national TV, radio and other media, and at festivals and screenings across the UK, in Europe and North America.
If I look a bit weird in the photos that's because it's actually a 3D scan of me, not the real me!